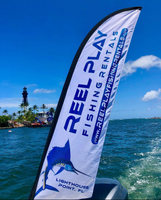 SOUTH FLORIDA FISHING RENTALS
Reel Play Fishing Rentals is a Florida-based company that specializes in providing high-end offshore rod and reel rentals for the beginner to the expert angler. Whether you are looking for a rod/reel combo to target our fast moving, high flying pelagic fish or perhaps an electric reel to target some of our water's plentiful species down deep, we got you covered. We carry some of the top brands in the fishing industry and want to make sure you have the right gear for any fish that comes along the bite.  
BOOK NOW
THE PROCESS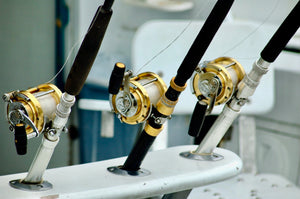 GEAR UP
Simply choose your rod and reel combos, how long you would like to rent for, and then book directly on the website. Once confirmed, we will contact you to coordinate a pickup/delivery option. Our gear is located at Big Dog Tackle in Pompano Beach. We can also deliver your combos directly to you. ($149 minimum order required for delivery. 24-hours advanced notice required.)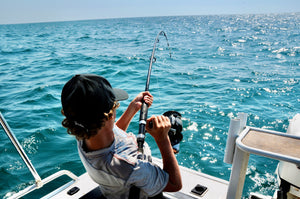 GET TIGHT
We only carry top quality gear including Lindgren-Pitman, Hooker, AVET, Daiwa, and Shimano! All of our outfits come pre-spooled with high grade Sufix Monofilament or Diamond Braid to keep you tight on that fish!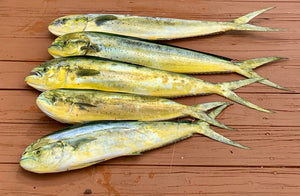 TELL YOUR STORY
Catch or not, they say a bad day on the water beats a good day at work. Once the fishing gear is returned to us, we'd love for you to share your photos and tell us your story. Please don't forget to tag us on social media and tell your friends as well.
Testimonials
Reel Play was a pleasure to deal with from start to finish. I rented a Lindgren-Pitman variable speed and it was practically brand new. Mike delivered it promptly to my marina in Lighthouse Point. It was perfectly rigged up for the day I had planned (sword fishing). The rod and reel worked great as did the battery I rented from them. The rates were very reasonable and the rental process was painless. I highly recommend this company for any fishing equipment rentals. Will definitely use them again!

Eddie B.
Mike and Lindsay were spectacular to work with!! They got my husband and I set up for our Bahamas trip and had the rods and reels delivered to us in a flash! Great customer service and very knowledgeable about the gear. Will definitely be using them again on our next fishing trip!

Dee L.
No better way to fish with top-notch equipment for an occasional trip when you don't want to spend thousands on gear. The owner is great and very accommodating, and the equipment was terrific. We rented two Tanacom 1000 electric reels for deep dropping and they performed flawlessly all trip and caught us three coolers full of fish.

The Jackson Group
The Marco Sport Fishing Club recently used Reel Play Fishing Rentals for our Deep Drop trip on the American Patriot Fishing Vessel.
We ordered 18 Daiwa Tanacom reels for the trip. Mike had everything set up on the boat when we arrived and provided a brief operational explanation. The equipment operated flawlessly throughout the trip. Outstanding customer service, we look forward to using his services soon again.

John M.
Reel Play Fishing Rentals made my trip to Florida really convenient. Their equipment was in great shape and the custom rods were awesome. I really appreciated that they met me right off the interstate which made my travel plans easier than expected. You should consider Reel Play if you're fishing in southern Florida.

Cecil B.
I needed an electric deep drop set up for a long range trip out to the gulf of Mexico. I got in touch with Mike and he was awesome to work with. He set me up with a Tanacom on a beautiful custom rod and a slick battery pack with extra power cord. The set up worked flawlessly the entire trip and I caught a ton of fish. Thank you Mike and Reel Play!!!

Teuchert's let's fish charters
I recently rented four rod and reel combos from Reel Play. Their quality of rod and reels that they are renting are stunningly good. All of the equipment worked very well, and their prices are fair. Their customer service is outstanding, and they even waived a late charge since we had engine trouble on our trip. I would highly recommend these guys, and will be back every time I need a few extra rods.

Seth G.
Called in advance about an upcoming trip. Different situation for them than previous business. Gave us a great deal. Arranged pickup and all went smooth as butter. Mike and Lindsay were amazing throughout the entire experience. Reel Play for your high end fishing equipment rental needs. Highly recommend!!!!

Robert H.
Great experience. Smooth and effortless rentals. Provided professional and immediate customer service. Worked around my schedule and when my boys loved fishing so much and wanted to extend the rental, they accommodated us without issue. I highly recommend and will definitely use again!

Timothy D.