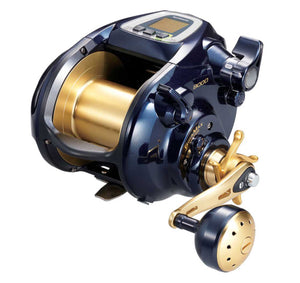 * $149 minimum order required for delivery. 24-hours advanced notice required.
Included in this combo is the powerful Shimano Beastmaster 9000 Electric Reel paired with our high quality custom rod.
Shimano Beastmaster 9000 Electric Conventional Reel
Enjoy high torque, high speed and great durability with the Shimano BM9000 Beastmaster Electric Reel. Normally reels with this type of power and capabilities are extremely heavy and cumbersome, while the Beastmaster weighs in at only 53oz, it is easily maneuvered around your boat after the initial hook up. Whether you are kite fishing, deep dropping for tilefish and other deep water dwellers, or even daytime swordfishing, the Beastmaster from Shimano is a fantastic option that can simply get the job done.
Features:
Brushless Gigamax motor.
Durable reduction gear.
Thermo adjust drag that provides a 50% heat reduction.
Heat Free System II (heat build up releases through side vents within reel's side plate).
55lbs of drag at full and 250lbs of winding strength.
Holds 1,000 yards of 100lb braid
 Have any questions regarding this rod/reel combo? Call or text 1-877-REEL-1-IN